I started to give the show a format by the end of last year (2021). Did some try-outs, and was looking for the right fit in my work-life time schedule.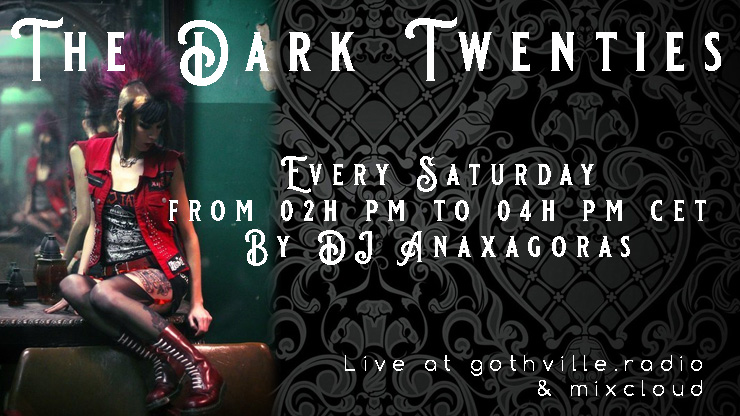 First, I was a bit worried, not being able to find enough new releases for the show, and that I was about to be forced by playing numbers over and over again. To get two hours properly full of dark scene music with release date after 01/01/2020, it sounded a bit scary in the beginning.
The Dark Twenties, referring to the era of the 1920'ies, where decadence and poverty met each other in underground venues. Many crises got finalized or started that time. Like most of us, when 2020 started, it looked as if the world ending was near. Many wrote that history started to repeat itself. Our freedom was cut to a minimum, and weird powerful individuals decided to start war, or at least some tried to start one. The perfect time and inspiration for many underground bands to create new music.
For me, the Gothic scene was always a world where the message in the music was as important as the music itself. The fashion was a way to make clear you're a part of it...
When you look at GothVille Radio itself, many subgenres are broadcasted, and since the restart in 2021, the genres are broadcasted in blocks. The GothVille blocks, which are in fact collections of genres that fit with each other, makes it a bit more difficult since you cannot know for sure which genre you will jump into once you turn on the stream. Besides having a look at the schedule, of course...
The Dark Twenties show is a bit the same, I focus on new releases, I focus on the darkness of them, and then I put them in a GothVille Block where I think it would fit best. The idea was to allow myself only to play releases from 2020 and beyond. But soon after a few weeks I realized, that for a two hours show, I even got more new tracks released the previous week that were plausible for being played than I could fit in these two hours.
Somehow, I think that these dark years we're in are in fact causing many bands to get inspired for bringing out new work more often. I also noticed more and more bands are starting to release singles in advance before the final release of the album. Surely the streaming platforms like Spotify, Tidal, Bandcamp, etc. are one of the reasons for these phenomena as well.
Some say that the Goth subculture is having a revival because of these crises. That young people are in a search for more identity. And that the voice of protest is finding it's way back to the scene, like in the good old days.
Anyhow, my worries were not needed, the show is finding its way as a platform for informing our listeners about the latest releases the last couple of weeks. It is being broadcasted every Saturday from 02h to 04h PM C.E.T. at GothVille Radio and here at Mixcloud. This might not be the best timeframe for you, but you can listen to it shortly after, as in within a couple of days.
At the website of GothVille you can upload your latest work, sending email is of course allowed, but many land up in the spam and are not always recovered! So, please use the website form to upload your music. At least I have your music, because downloading on all those different links is time-consuming, and it just will take longer before I can prepare it for broadcasting.

More info about the radio schedule: GothVille Radio Schedule Info